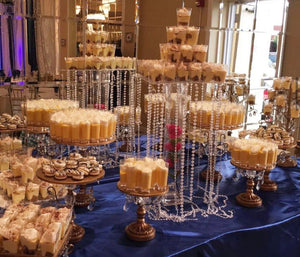 Scrumptious by Hira
Desserts Galore - Flash Sale - October 2022
Sale price
$80.00
Regular price
$130.00
This package includes 4dz. mini desserts. You can choose up to 4 items from the list below and you will receive 12 of each type. We will not be able to provide substitutions.

• Chocolate Covered Strawberries
• Chocolate Covered Pretzel Rods
• Biscoff Tarts
• Oreo Cheesecake Bars
• 2 oz. Mango Mousse Cups
• Triple Chocolate Chip Brownies
• Mini Cupcakes

This package is good for about 20-24 people (based on 2-3 items per person). You can choose a single custom color for the cupcakes, no metallics.

For pick up. Delivery available, there will be an additional charge based on location.
Expires 06/30/2023
No refunds on this item. Can use at any time pending availability (check in for availability at least two weeks ahead). No need to provide date of event at the time of booking.
Not available to redeem NOV 14-20, 2022 and JANUARY 2023.
Package cannot be split over multiple events.
Please email us with your selection of desserts, date and time of event at hira@scrumptiousbyhira.com when you are ready to redeem your order.